By Frederick HalleyTORONTO, Canada — It was a night of nostalgia as one of the oldest clubs in Toronto held its presentation, dinner and dance last Saturday night at the East Coasters Restaurant, North York here.Established in the 70s, and still going strong, Superstars Sports Club, the only one which features both men and women in its lineups, rewarded its players and administrators for a satisfying 2016 season in the Scarborough Cricket Association (SCA) tournaments.Both the Boys' Under-17 and Women's teams finished second in their respective final playoff encounters while the men's second division side ended a creditable third in Conference B, despite failing to make the playoffs.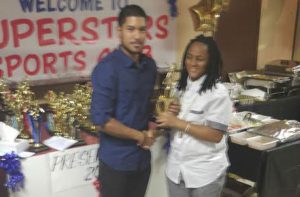 Lorraine Kenton collects her prize for being the best bowler during the 2016 season.Among the outstanding players were Trushil Patel, Jordan Perali and Towfeeq Ahmed who starred in both the second and Under-17 divisions while wicketkeeper and star batter Nicole Samuel and left-arm swing bowler Lorraine Kenton shone on the distaff side.Apart from ensuring that their team reached the Under-17 final, where they suffered a loss to Action Zone, Patel, Perali and Ahmed played major roles in the SCA's lopsided victory over Ottawa Valley Cricket Council in the final of the Ontario Cricket Association (OCA) Under-19 tournament, played here in August.Patel captured the Most Valuable Player (MVP) award with a brilliant all-round performance, slamming a fine 74 and claiming five for 11 while Ahmed scored 58 and Pirali, the victorious skipper supported with 41.In addition, to being declared the best all-rounder in the Under-17 category, Patel also scored the most runs in the second division with Perali as the runner-up. Ahmed, on the other hand, was adjudged the best Under-17 batsman and he also copped a trophy for scoring a century.In the women's division, Samuel registered the most runs while Kenton ended with the most wickets. Both players were selected to represent the SCA women's team against the touring MCC women's side but the game was unfortunately called off.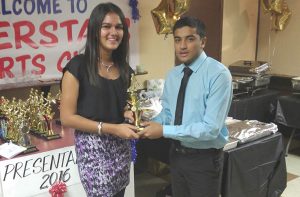 MVP Trushil Patel receives one of his several awards from female player Megan Yougnauth.Other women players who were recognised were sisters Mishuneet and Ishuneet Sagoo, Amanjit Virk, Dency Anto, Megan Yougnauth, and Alisha Sarkar (player/scorer).Abigail Rajkumar was singled out for her role as captain, player, manager and coach by Guyanese-born coach Frank Persaud who in turn conferred the Lifetime Achievement award on her, declaring that she has played a pivotal role in the introduction and development of women's cricket in the club.Several Under-17 players were also given kudos for their improved play during the season while Adam Ramcharran copped a prize as the club 'overseas player' for 2015-16.